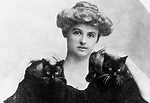 Njeno pravo ime bilo je Pauline Mary Tarn, rođena je u Londonu 1877.godine, od oca Britanca i majke Amerikanke, a pisala na francuskom jeziku- tvrdeći da je to za nju jezik slobode.
Pisala je u duhu parnasizma i simbolizma: sonete, poeziju u prozi, ali najviše prozu. Ponela je nadimak Sapfa zbog svog neprikrivenog iskazivanja safizma; svakako, u to je bio uključen i feminizam, i borba protiv nametnutih okvira raznih vrsta, društvena satira, i drugo.
Svoj prozni vrhunac dostigla je u pripovetkama Gospa od vučice iz 1904. godine.
Proputovala je Evropu, Ameriku, Bliski Istok i severnu Afriku, stigavši i do Dalekog istoka, Kine i Japana, a živeći hedonistički, raskošno i boemski.
Umrla je u Parizu u 32. godini, zbog lošeg zdravlja narušenog opijatima, što je delom čini bliskom švajcarskoj spisateljici sličnog senzibiliteta Anemari Švarcenbah.
Po svim ostalim odlikama, nesumnjiva je sličnost sa Oskarom Vajldom.
Jedan trg u Parizu nosi njeno ime, ali i jedna književna nagrada.